There was jubilation today for fans of the squat Welsh pop combo 'The Manic Street Preachers' when Mr Richard 'Ricky' Edwards was found alive and well and running a fish and chip shop in Cardiff.

The Manics axe man went missing way back in February 1995, when after an exhausting year Mr Richard disappeared into the night and was seen no more, until yesterday when the special 'MSP' unit of the Welsh police finally tracked him down.
" We never give up " we were told by Chief Inspector Dafyod Ieuan " We have a saying here in Wales that goes ' Does dim caws ar ol, nag oes ? - Oes mae digon o caws. ' and I think you'll find that speaks volumes about how well our search was conducted ".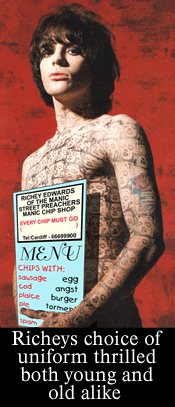 Since Mr Richard went missing the police have spent man hours pouring over every small detail of the guitarists last movements leading up to his disappearance and the discovery of his car.
" Mr Richey James' silver L Reg Vauxhall Cavalier was found abandoned at the Severn View service station on Friday, February 17th ". Inspector Ieuan continued " We searched the car, and aside from a slight smell of vinegar and an abundance of old newspapers we didn't really have that much to go on... "
It was at this point in the investigation that the English police took over and immediately put the Edwards file onto another desk so someone could have a 'quick look at it', from where it promptly disappeared. Only to re-surface in 1999 when some cleaners found the file behind a radiator. The file then found it's way back to the desk of Chief Inspector Dafyod Ieuan who sprang into immediate action. " Well, it was like this see, " he said of the final stages of the investigation " We asked about a bit, and showed some old pictures of Richard to the kids, only the kids thought that there were only 3 boys in the Maniac Street Poachers so that didn't help much. Then one night on my way home I stopped to pick up a nice bit of Cod and a potato fritter for my tea, I saw this guy behind the counter and thought 'Hello, I know his face', it was then that the penny dropped.
I called for back up and then clubbed Mr Ritchey repeatedly round the head with my truncheon. And the rest is history ".

In a statement issued later Mr Edwards explained exactly what had transpired during his missing years.
" For the others, the band always came first, but for James and me deep frying and batter held an almost mystical appeal. James was stronger than me, I mean I tried to ignore it, I really did, but I found myself smuggling pickled eggs and tiny packets of ketchup with me on tour. So one night in 1995 I decided to drive down to see my 'Chip man' as he said he could set me up as a dealer, I wanted out, I was depressed and I wanted to fry ".
Ritchey has been dealing chips since March 1995 when he set up the Ritchey Edwards of the Manic Street Preachers Manic Chip Shop just over the road from Cardiff central station " I'm amazed I got away with it for so long " he told reporters. As for the future Ritchey says he will continue with his chosen chipping career and not rejoin his pals in the band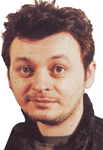 Speaking on behalf of the rest of the band the painful singer Mr James Dean Bradford told us:

" We knew where he was all along, how else do you think you we got so fat ? ".



The band are currently staying at the Priory health farm being treated for severe

pie

addiction.