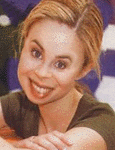 Gail Porter the midget star of Sunday morning television used to be a pixie. She was forced to leave the rest of her pixie clan behind and work in television when the ruling pixie council declared her to tall.
Gail is a staggering 2 feet and three inches tall. A full eighth of an inch over the pixie maximum.

---


Ronan Keating the ex singer with the band The Boys town is the owner of the worlds most expensive underpants.

The pants were made by underwear superstar Kevin Kline out of a cloned hair belonging to Elvis Presley that Kevin found on a bar of soap during a visit to Graceland. " Oi, love moi pants " said Keating, son of ex Blue Peter presenter Karen. " Oi feel close to the King when oi have them on ".


---

Mulleted singer and Baywatch actor David Hasslehoff was sold at a recent German auction for a staggering 2000 DM. The Bouffant lifeguard was purchased by Kraftwerk who intend to sample him for their new album."

---


Former pop nazi Morrisey is set to return to the limelight starring in an updated version of 'The bedsitting room'.

Set in the 1980's, the audience will spend a day in his bedsit as he complains incesantly about his life whilst masterbating over pictures of James Dean, before going to bed in a state of self loathing.

---
---

Arnold Schwartzenegger star of both the Terminators movies is terrified of vacuum cleaners.
Arnies phobia came to light during the filming of a television commercial in Japan.
During the filming of the advert for 'Happy smiling pig sushi' a cleaner started an Electrolux 2500 to clean away some spilled rice. On hearing the whoosh of the Hoover Arnie ran for his life, hid under a table and wept like a girl till it was turned off. He has vowed never to return to Japan.

---


Muppet faced 14-year-old pop sensation Craig David does not actually have a beard.
His trademark facial fuzz is in reality the well-trained contents of an ant farm given to him by his mother for his 12th birthday. The ants are kept in place by a thin layer of marmalade he smears on his face on a daily basis.

---


Toupee wearing rock legend Mr John Bon Jovi admitted to a magazine recently that he prefers a nice cup of tea to sex with a lady…. "Not too hot though," Mr Jovi (63) declared "otherwise you tend to burn your cock upon entry."

---


Top TV chef Jamie Oliver can produce over 400 litres of spittle a day.

The saliva is kept in large glass containers and used as lubrication for Delia Smith who dried out sometime in the 1970's.

---
---
---


Pop diva Sir Elton John has been banned from all of America's national parks.
Elton a keen bird fancier will no longer be allowed into national parks after being declared a fire risk. The visually challenged Elton now wears glasses so thick, that if a stray sunbeam should pass through them he could start a forest fire of mammoth proportions.

---


After Pierce Brosnan leaves the role of Bond the position is to be filled by actor Samuel Jackson. The new film set in Harlem will see Bond facing his old enemy Ernst Stavros Blofeld, a crack dealer from the Bronx who is trying to muscle in on Bonds turf.

---

Head of the Playboy empire Hugh Heffner is to release a 'self help' video for couples with problematic sex lives. Hugh who is 104 years old will star in the video with ex Playmate of the month April-1964 Mrs Doris Stokes.

---


In a recent worldwide survey it was discovered that YOU spend too much time on the internet.

Yes, you. You little pervert, I can see you… Now stop looking for nude pictures of Britany Spears, wash your hands and go and read a book or something.
---