Violence has once more reared it's ugly, ugly head in the world of popular rap music. Earlier today the song and dance man Emimem ( real name 'Slim Shady' ) was badly injured in a drive by shouting.

It's the third such shouting in Los Angeles in the past two weeks. Only two days earlier rap actor Willy Smith was involved in a shouting, but luckily no-one was injured, and last Tuesday a member of the popular musical combo Cyprus Hill had his ego bruised so badly in a shouting that he is still in hospital with doctors describing his condition as Chronic

Witnesses to the shouting report that Emineminem was coming out of the Burger King on the fashionable Hollywood Boulevard when an as yet unidentified car pulled up along side him and wound down it's windows. It was then that four youths ( believed to be young ) opened fire, showering the singer and passers by in a hail of abuse.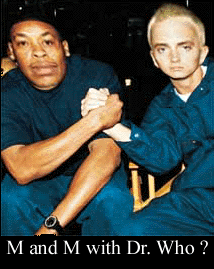 " It was pandemonium " said one ear witness " There were insults flying all over the place, people were just scrambling for cover, I mean it was obvious that they were aiming the insults at Eminemineminen but we were caught up in the cross fire, I praise God lucky enough not to have been hit ".
At least four people were rushed to the Saint Nixons hospital suffering from various insults, two of the victims a young Puerto Rican mother and her child were later discharged from hospital suffering from 'Bad Ass' concussion.

It was Eminem (35) and an unnamed passer by who bore the brunt of the insults. " They were hit with full force " Dr. Pepper the head of the Insultology department told us " Mr Shandy was caught by at least two "You're shit and you know you are's" and has had to have surgery to remove a " NO, YOUR MOTHER ! " that had become deeply embedded in his psyche ".
Sadly however, it would appear that the injuries sustained by Mr Shoddy may well make him unable to rap again. " We had to remove a small portion of his frontal lobes to get to the " NO, YOUR MOTHER ! ". his surgeons told us " his ability to cuss could well be seriously affected, furthermore his sense of balance and direction could be thrown out, making crotch grabbing a potentially dangerous pastime ".
Tributes have been flooding in from many of the leading names in rap " A terrible shame " said pasty faced rapper Vanilla Ice.
" MesaidEminemstabbedsomebodydowndelanealickmeboomboomdown " his close friend Snow told reporters.

" Eminem will have to stay in hospital for the foreseeable future while he recovers from his injuries " said his personal physician Dr.Dre " He's in a dreadful state, and has even forgotten about ME completely, I don't know what to say, I am devastated ".

The LAPD will be investigating the case if they can be bothered.




More stories here