Police in Essex staged a dawn raid on a farm in the village of Chitenden where the owner was suspected of the factory farming of 'Boy Bands '.

Conditions inside the farm were said to be barbaric, with up to 5 boys being forced to share the same band, with poor sanitation, no fresh material and the bare minimum of talent needed to survive.
" I've never seen anything quite this bad before " said one member of the rescue squad " they were crammed into tiny rooms, some of them hadn't even seen their own reflections since the makeovers. The poor, sad, hapless creatures were terrified ".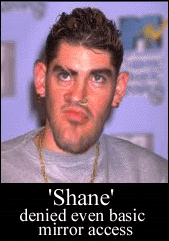 The factory farming of Boy Bands was outlawed in this country back in the 1980's after BIG FUN had to be humanly destroyed due to massive genetic defects caused by inbreeding

" We hoped that we has seen the end of the barbaric practice of farming Boy Bands after that, " we were told by the R.S.P.C.B.B " but only a few years later we were confronted with The New Kids On The Block, we were lucky that our strict quarantine laws kept them out of the UK, but their appearance on the scene stirred up an interest in the illegal farming of Bands for profit. But I have not seen such an obvious case of inbreeding, malnutrition and neglect since the farm in Walford responsible for the East 17 was raided back in summer of 1992.

Amongst the Hungry, unwashed band members who were kept at the farm were four of 5ive, the one with the bad hair out of Boyzone known only as 'Shane', Lee from 911 and a wet and bedraggled N-Sync who was at the exact moment of the rescue half drowned in a bucket by the farms owner a Mr Toxteth O' Grady, for being " The runt's of the litter " as he put it.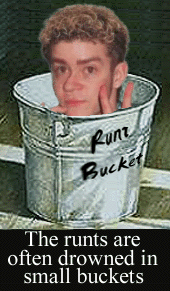 " The problem is, " a WWF spokesperson told the BBC " that all the time there is a demand for boy bands, these ruthless farmers will continue breeding them.. The way the law in this country stands, anyone can set themselves up as an illegal band farmer, all they need is a breeding pair of Westlifes, and as long as one of them is in season it should only take a matter of weeks before they spawn for example a Brother Beyond or an Upside down ".

Mr O' Grady has been charged with cruelty and will appear in court later this week, he faces up to 15 weeks in prison and an on the spot fine of 50 pounds. It is also expected that he will be banned from owning a Boy Band for the next 5 years. Sadly however due to a loophole in the law he will still be able to keep Duo's and Trio's as the legal definition of 'BAND' had it's member limit set at 4 last year in order to allow A1 to compete in a ' Battle of the Band's 'competition held in the now infamous 'Starlight Rooms' of the Bognor Regis pier.

We spoke to alleged former Band farmer Nigel Martin Smith, he told us this in a meeting we secretly taped " Boy Band farming, yeah I've dabbled. The moneys fantastic, I mean who am I to say no if someone wants a Take That... I mean for a monkey I can lay my hands on some nice little Backstreet Boys no questions asked.. I'm not in the game myself anymore mind, I've got bigger fish to fry, know what I mean ". Sadly however we didn't.

The Bands have all been taken to temporary shelters for the next few days where highly trained staff will nurse them back to health, from there they will go on to Battersea Bands Home where they will be put up for adoption by the public.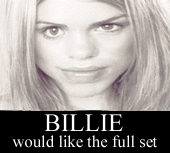 Teenage Pop hussy Billie Piper (14), who only last year re-homed one of 5ive when he was found wandering loose on the streets is said to be interested in adopting the rest of the flange. " The one I've got is so cute, " she purred to us over the phone " There is nothing he likes better than curling up on my lap and having his little round belly rubbed, while I sing to him. And the way he looks at me, it's almost like he understands, I would love to see him playing happily in the garden with the rest of the group ".