Tragedy struck today when Mr Val Doonican, the ladies favourite, became the victim of a terrible and senseless crime - When his world famous collection of sweaters was stolen in it's entirety.

The collection took Mr Doonican (103) his entire life to collect, and he would often proudly proclaim that he had " never worn the same sweater twice ".

He was busy performing in his Millennium Tour of British Seaside Resorts when the terrible theft took place.
As usual, Mr Doonican had carefully selected which sweaters he would be changing into between songs and funny anecdotes and they had been hung out in his dressing room in change order. Mr Doonican had just finished his heart rending rendition of 'Delaney's Donkey', and nipped back-stage to change from a brown and mauve C&A polo neck into his favourite cream Aran sweater with extra detailing around the cuffs, the traditional sweater he wears when singing the haunting ballad of 'Paddy McGinty's Goat'. It was then that the alarm was raised.

" It was a professional job " I was told by Detectives at the scene " They were in and out in a matter of minutes, they had it planned out in minute detail. We have taken the precaution of sealing off all sea and airports, we suspect that the theives will try to get the sweaters out of the country for sale in the Phillipines where the black market trade in jumpers and cardigans is booming ".

No one at the theatre could believe that such a malevolent crime could have occurred right under their noses. The theatre manager Mr Jack 'The Hacksaw' McGuire had this to say on the momentary lapse in security.
"Bert only slipped out for a cuppa and a Woodbine. We reckon that it's got to have been one of ol' Val's Gal's, that's what we calls 'em yer see, seeing as how it rhymes, oh how we laughed when we realised that it rhymed. Do yer fancy a Fisherman's Friend ?".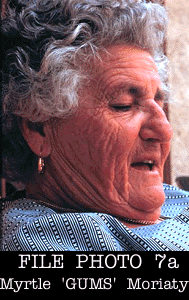 Mr Doonican is understandably upset and his agent; Ms Petunia Norton (age withheld) had this to say, "I warned Val about this time and time again. Those girls are completely bonkers about him but he just won't listen, I think he gets some sort of perverse thrill from all the attention. And he will insist on dragging those blasted jumpers around. The transportation alone has cost us thousands, well, he can't do it anymore now can he " she smiled.

Later on, I was able to speak to the man himself, a distressed Val told me, " I goes outside right, sign a few of me pictures for the old gals that loiter around outside the stage door. Yeah, so what if I invited a couple back after the show for a sherry, but I wasn't thinkin', I should have never given 'em those backstage passes. I just can't believe that any of them could have nicked me gear, they loved me......... often ".

The two main suspects, that the police wish to question are one Mrs Myrtle Moriarty (92) and her companion and bridge partner one Mrs Fanny Lovebatter (83). Both were seen at the scene of the crime scene and need to be questioned.
The two ladies are also known to be members of The Woolpack an underground crime syndicate linked to the Yakuza or Japanese mafia and believed to be responsible for the theft of the sweaters and cardigans worldwide. They are also wanted in connection with the smuggling of illegal wool products into Peru, Chile and Kathmandu.

Other fans of Mr Doonican were asked of their thoughts on this crime. Mr Herbert Moriaty (24) just shook his head and said, " I can't believe my wife could do such a thing and inflict such grief. I hope she realises soon that she can't get away with it forever ".

In light of recent events Mr Des 'O' Connors has been placed under 24 hour police protection and is only allowed out in public under the condition that he be clad from head to foot in polyester and viscose.