Former heavyweight boxing champ Frank Bruno is being sued by the Whitby Spa Theatre for allegedly acting in their Summer Pantomime Aladdin.

Bruno, who was hired for his bubbly personality and larger than life hands, has hit back at what he called "Vicious lies, Harry", and counter sued the Whitby Town Council, citing "gross misrepresentation, know what I mean?" referring to the terms under which he was contracted to the company.

Bruno (43), who retired from rough cut tobacco making in the late 1940s to take up boxing, has been in the news a lot more than he would have liked in recent weeks.
The self styled "Mr. Punch" recently split from his wife of sixty three years, Judy (17) after an argument about some undercooked sausages and alleged baby battering on the pier at Scarborough last July.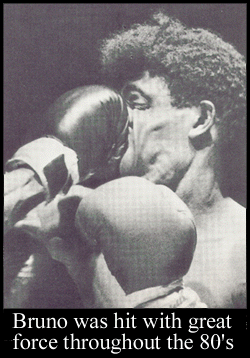 Frankey Twankey (as he has been known professionally since 1956's runaway success in the very same production of Aladdin as in Margate during the summer of 1974) says he has been the victim of a hate campaign, mostly led by "people who are afraid of my skills of bobbing and weaving, know what I mean, Harry?" and is desperately tring to make sense of his private life. A private life kept even more private by his publisher's refusal to release his autobiography.
When asked by local news reporter Nigel Multicolouredswapshop about the book, Beano replied, "It's a very good book, who wrote it? Harry?"

Whitby Council delegate Jo Jo Wanless, who stars opposite Frank in Aladdin refused to comment on the issue until we threatened to reveal that she'd had a minor part in "Heartbeat" along side Nick Berry who played Lofty in Eastenders in the late 1820s.

She then opened up, tearfully recounting " the day he remembered all his lines and made the rest of the cast look like baboons ".
We approached Frank Maloney (92) Bruno's promotor and adopted son, about the slur. Maloney (44) retorted, "They were no baboons. They were marmosets - much smaller, and native to different countries altogether. Baboons are the ones with the red bums, aren't they? Thought so. No baboons in Whitby. You'd have to go to Hebden Bridge to see baboons...... Or Redcar !".

Bruno (69) said of Wanless, "She is a lovely man. We got on so well in rehearsals. It has hurt me more than a bite, sorry, punch from Mike Tyson. I didn't think he had it in her to go public over all this, especially after he was in Heartbeat".

The case is set to continue.