In an astonishing announcement yesterday, pint-sized popster Phil Collins shocked the world with the surprise revelation that he is to marry his Chopper. The ex-Genesis singer first laid eyes on his true love back in 1972, when he received the Raleigh bicycle as a Christmas present.

"They were absolutely inseperable," said Mike Rutherford, lanky Genesis guitarist. "Phil would even insist in bringing the bike on tour with us, and would be fooling around on it, doing wheelies and other stunts, during the soundchecks. It was most disruptive, and it caused us to fall out in a major way on several occasions. In fact that was the real reason that Peter Gabriel left the band," he added.

It was clear to all that Collins was very fond of his Chopper; he enjoyed playing with it immensely but was reportedly not too keen on doing his own bicycle maintenance. "It was always. 'Ere Mike, can you help me change this tyre", or "Me chain's broken again and the links are too fiddly for my stubby little fingers..." remembers Rutherford. "It seems I'd always end up as chief bicycle repair man on our tours. That's how I thought up the name Mike & the Mechanics for my next band."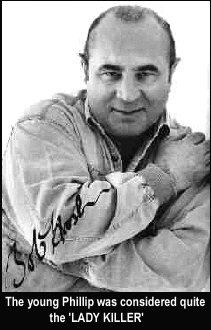 And when Collins tried to make a career out of acting in top movies such as "Buster", "Who Framed Roger Rabbit" and "The Little Rascals" he was even reported to have shared his trailer with the retro-styled two-wheeler. Celia Pincers, assistant make-up artist on one of Collins' movies comments, "There was always a lot of squeaking coming from inside his trailer. We just assumed that he was polishing his saddle and oiling his nuts."

Yesterday's stunning announcement came mere weeks after Phil caused furore by making the Chopper an official member of his backing band, amid vicious accusations that the bicycle could not even play a note. It was heavily rumoured that the synthesiser behind which the bike stood on stage was not even switched on.

Mick Jagger was particularly scathing. "Collins? He's just flipped, ain't he? I mean, me an' Keef like nothing better than doing tricks on our skateboards, but we would draw the line at letting them join the band. An' Charlie Watts - he's dead good at all kinds of stunts on his BMX bike - but he's a professional and never mixes work and pleasure, so when he's behind his drum kit at one of our concerts, his BMX is safely chained up to the railings outside."

The shock announcement that the Collins intends to enter into wedlock with his pedal-powered princess was scornfully received by both the Archipshop of Canterbury and the Vatican. And with all the other major religions refusing to conduct the service, rumour has it that Collins intends flying out to Haiti and surreptiously marrying the Chopper in a secret voodoo ceremony.

"It wouldn't surprise me in the least. Phil was always fascinated by voodoo magic," commented Mike Rutherford. "That was the other reason that Peter Gabriel didn't stick around: Phil kept sticking pins into this wax effigy of him. He was a vicious bastard at times."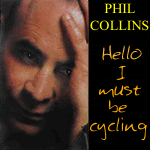 Phil's new album is not available in shops anywhere.