The search for survivors continued today in the aftermath of last weeks Ricky Martin explosion.

Speculation is still raging as to the cause of Mr Martin's combustion, but in a statement issued by L.A fire chief Juan Conquestadorez speculation seems to go with the theory that during the sell out concert on Friday Mr Martin shook his 'Bon bon 'with a little too much Latino vigor causing a massive build up of static electricity in the singers trousers.
"All that static must have been building up for quite some time" said Mr Conquestadorez in his statement "It would seem that a stray spark from the trousers combusted with the fumes emanating from the glue used to hold Mr Martin's hairpiece in place quite literally setting off the Latino 'SEXBOMB'".

The explosion devastated the Hollywood Bowl and there are still several people missing. Debris from Mr Martin has been found as far away as Cleveland and the damage caused by falling flaming chunks of Mr Martin is estimated to run into 10's of dollars.

A spokesperson for Mr Martin's record company said today that he was deeply shocked and appalled by rumors that Mr Martin had suffered from spontaneous human combustion for many years and was in fact warned by his physicians only days before the concert that he was 'unstable' and may well 'go off'.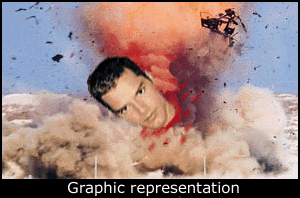 Mr Martin shot to fame in the early 90's with boy band The New kids on the block we contacted one of his former band mates Mr Jason Orange for a statement:
" Little Rick, was always the most volatile member of the band" he told us in a taped recording "Sometimes he would get a bee in his bonnet about something and sparks would fly".
Rescue teams are to continue combing through the rubble for the next two days after which the search for survivors will be called off.

Speaking at a press conference this afternoon the Mayor of L.A said that this was 'A Latino accident just waiting to happen" he promised worried voters that it would not be allowed to happen again.

To prevent the risk of further Latino sexbomb explosions a wall has been erected around Jeniffer Lopez and fire crews are continually spraying her with water, when declared safe she will be encased in lead and dropped into the ocean.