There has been public outcry at comments made by Gary Barlow on the This Morning televisual entertainment show.

Mr Barlow shocked the audience with his claims that family entertainer and bon vivant Robbie Williams does not exist.
" He's not real " began Mr Barlow " I mean I've never even seen him, there is no proof that he's real at all, in fact it was all a publicity stunt for Take That. Me and the boys though it would be a laugh to pretend that there were five of us in the band, when in fact there was only ever the four of us. And in the video's we got the boys at Jim Henson's workshop together with the guy's over at Industrial Light and Magic and the results speak for themselves, They even used the same technique for Jar Jar Binks in the movie ' The Empire Strikes Back ' ".

" I'm the talented one " he continued " I'm real... I won a talent show at Pontypid Butlins when I was twelve for playing the piano, and I'm handsome too, all the women love me.... and the boys love me too. I'm considered a deity in the Peoples Republic of Tonga, The Sultan of Brunei wanted to buy me but I was too expensive, people often ask me to touch them as it is widely thought that my touch can cure the sick and diseased, I wrote A million love songs when I was still in the belly of my mother....love me, LOVE ME ".


taped recording of Gary.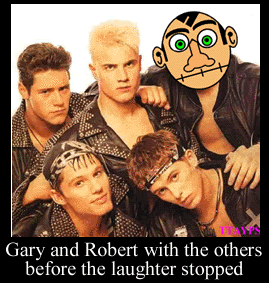 This is not the first time that Mr Barlows comments have landed him in trouble, He was recently involved in a lawsuit that cost him thousands of pounds after he claimed that Welsh heart throb singer Ronan Keating was in fact " A horrible nightmare " and that his backing group the BOY'S OWN were " nothing more than figments of an over active imagination possibly caused by eating too much cheese just before bed ".

We contacted Gary's parents for a statement, they declined to speak to us but a close personal friend of Gary's a Mr Elton John told us:
" Gary has always been a special boy, he's a very talented young man, a gifted pianist, superb lyricist, first class actor and all round good egg. It would be such a shame if all the nonsense about this Williams character, and those Boy's Own comments damaged his wholesome and cleancut image ".

Earlier this evening Mr Barlows press officer issued this statement on behalf of the crooner:

" Mr Barlow deeply regrets his comments on todays show regarding the existence of Robbie Williams, he admits that it was foolish of him to deny the existence of Robbie and deeply regrets any disturbance this may or may not have caused. He fully acknowledges the genuine existence of Mr Williams and extends the hand of friendship toward him ".

Mr Williams was unable to comment on the incident involving Mr Barlow as he is currently out of the country kicking baby seals.